Stamped Shaker Door Installed in Pensacola, FL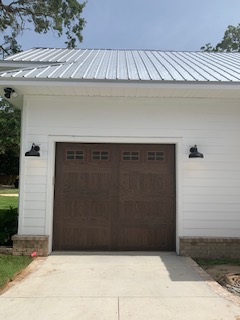 American Garage Door installed this beautiful Stamped Shaker Door on a new home in East Hill. This is a C.H.I. model 2518 with Dark Oak Accent Woodtones. The Stamped Shaker offers clean lines and a minimalist design.
You have many color choices including; 5 standard color choices, 2 Painted Woodtones and 2 Accent Woodtones.
You can choose from GOOD, BETTER and BEST levels for the Stamped Shaker. The GOOD door is a standard door with no insulation. The BETTER door has 2 insulation Values, R-7.94 which is a standard door with a vinyl backing and R-9.65 which is a Medium Duty Door with a steel backing. The BEST door is a heavy duty door which offers R-16.55 insulation and steel backing.
If you desire windows in your door, there are 6 glass options and 4 designer glass options. Along with several window insert options.
This style door also offers hardware that is either permanent or magnetic to add even more style and beauty to your door.
Windloaded doors are so important to our hurricane prone area, this door can be windloaded to meet Florida Approval Codes to withstand strong winds.
A beautiful garage door adds curb appeal to your home and the Stamped Shaker offers many design options that will look appealing on any home.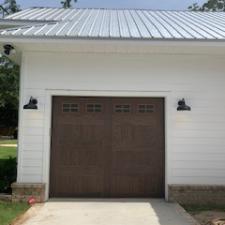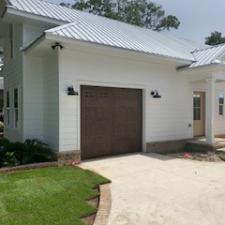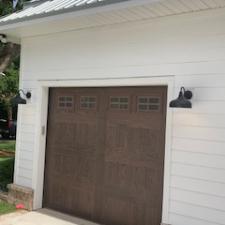 Products Used:
C.H.I. Overhead Door
Client Review:
When we described the style door we wanted for our new home, Bryan and his team at American Garage Doors knew the exact door we needed. They chose a C.H.I. Door for our home. Installation was efficient and timely. Living along the Gulf Coast of Florida we needed a strong reliable garage door to protect our investment and we chose American Garage Door.
If you're looking for Stamped Shaker garage door installation in Pensacola, FL, call American Garage Door today at 850-478-7000 or complete our online request form.