Commercial Garage Door Installation at Tyndall AFB after Hurricane Michael
We are honored to be part of the rebuilding of Tyndall AFB. After the devastation of Hurricane Michael, many buildings are being rebuilt at Tyndall. We are installing about 100 doors at Tyndall.
We have chosen C.H.I.'s premium insulated door because it is guaranteed to deliver years of dependable operation. The micro-grooved sandwich models are constructed in a variety of gauges and are available in both polyurethane and polystyrene insulation options for those applications that demand the best in thermal efficiency and value. And, if you're looking to enhance your buildings aesthetics, these sandwich doors are available powder-coated in over 182 different colors!
Most of the doors we are installing at Tyndall are Model 3216 sized 16' x 14'. Tyndall chose the color Sandstone, a R-Value of 17.54 and wind-load to withstand 150mph winds.
We hope another Hurricane doesn't come through his area, but if it does, many of Tyndall's buildings will be protected with these C.H.I. Commercial Insulated Doors.
Services Used in Project
Photo Gallery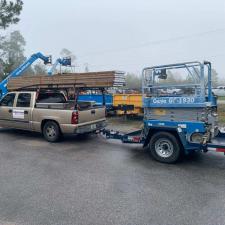 Products Used:
C.H.I. Overhead Doors