Rolling Sheet Door Installation in Silver Hill, AL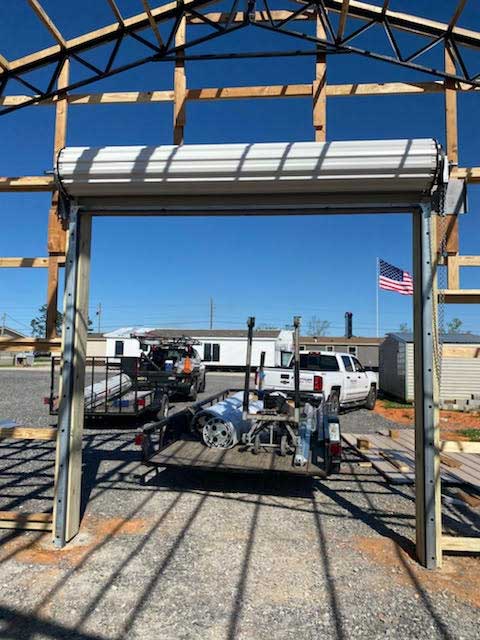 This project called for Wayne Dalton Model 790 Rolling Sheet doors. We installed one door before the entire building was constructed.
Wayne Dalton's Rolling Sheet Door Systems offer the perfect solution when your project requires an attractive and solidly constructed rolling sheet door that is also easy on your budget. These door systems incorporate innovative design elements that enable fast installation and ensure smooth operation for enhanced door life.
Model 790-CW is ideal for commercial applications with openings up to 20' wide by 16' high and features integrated curtain wind locks for design pressures up to ±22 psf. A unique curtain profile facilitates smooth operation and minimizes curtain damage, and stepped rings allow tight, uniform curtain wrap to help minimize headroom requirements. A quick-connect bottom bar stop minimizes fasteners and allows for easy insertion of the curtain into a universal guide for fastening in concrete, masonry, or wood jambs.
The model 790 has several options, including 11 color choices:
Optional left side lock and step plate
Optional header draft seal
Optional wind load: integrated curtain wind locks and guide to withstand
Wind loading to minimum design pressures of ±22 psf (±107 kgf/sq m)
Locks: curtain lock, two-bolt double shackle, or cylinder
Operation Options
Manual lift (standard)
Chain hoist with reduced drive
Motor
With so many options, you are sure to find one to suit your needs.
Estimated Budget: $4,500
Commercial Garage Door
Rolling Sheet Door
Rolling Sheet Door Installation Photos
If you're looking for the best choice in commercial garage door installation, call American Garage Door today at 850-478-7000 or contact us online.