Industrial Gate Opener Installation in Panama City, FL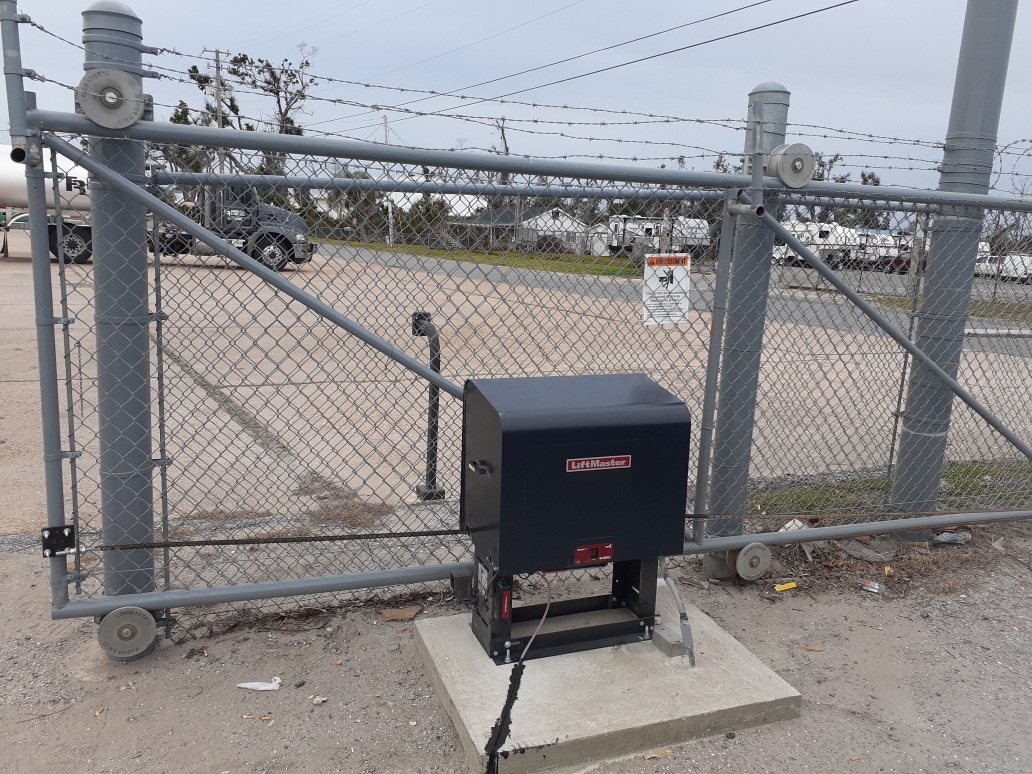 Our customer, Florida Rock & Tank Lines Inc needed a new fence, gate and gate operator after Hurricane Michael destroyed their property. After installing a commercial fence with barbed wire and a 28ft gate, we installed an Industrial Gate Operator in Panama City Florida. An electrician wired the project area while we prepared a concrete pad to attach the operator. Once the concrete pad was cured, we installed the operator.
This job required an operator that could operate a 28ft gate, with frequent opening and closing which included safety features. The business is a fuel business and had to have all of the most current safety features available.
The operator is a LiftMaster SL585101UL Slide Gate Operator. The LiftMaster SL585 is a durable 1 HP heavy-duty gear-driven operator for use on heavy gates and high-cycle applications such as gated communities and industrial locations. Unrivaled performance, safety and accessibility. Built to deliver unsurpassed safety and performance the UL listed gate operators provide peace of mind for every gate application.
Features include:
LED DIAGNOSTIC DISPLAY
DUAL VOLTAGE CONNECTIONS
PROGRAMMABLE AUXILIARY RELAYS
PRE-MOTION WARNING ALARM
MECHANICAL BRAKING SYSTEM
MAXIMUM RUN TIMER
EXTERNAL ALARM RESET BUTTON
ADJUSTABLE FRICTION CLUTCH
ANTI-TAILGATE
QUICK CLOSE
HOMELINK® COMPATIBLE
SECURITY+ 2.0® ON-BOARD RADIO RECEIVER
This slide gate operator is the perfect operator for the this job. It performs smoothly when opening and closing. Our customers are pleased with the operator and the installation.
Services Used in Project
Photo Gallery
Products Used:
LiftMaster SL585
Client Review:
They installed 7 roll up doors and security fence and electric gate motor for our company very reliable and will get the job done no matter what. had no problems with anything . All works great will recommend to anyone.
If you're looking for Industrial Garage Doors and Gates in Panama City, FL, call American Garage Door today at 850-478-7000 or complete our online request form.