C.H.I. Skyline Plank Garage Door Installation in Santa Rosa Beach, FL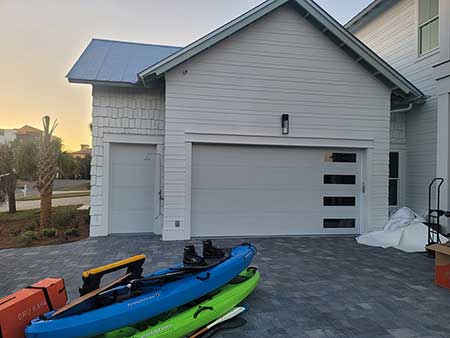 This builder chose 16x8 and 4x8 Skyline Plank garage doors for this beautiful new home in Santa Rosa Beach. These white plank doors complement the planks on the home. The long windows on the right side of the door add style and a unique touch to the door and home.
Skyline Planks are part of the Contemporary Collection for CHI. Horizontal grooves lend texture and interest to Planks doors, creating depth and subtle dimension.
Recessed horizontal accent lines on a textured surface provide a linear plank appearance with the flexibility of multiple window size, placement, and glass options.
There are 9 possible color options for Planks doors. The 7 Accents Woodtone Color Options portray a non-repeating wood grain to achieve the warmth, appeal, and beauty of a handcrafted wood garage door while providing the strength and durability of steel.
There are 2 R-Values to choose from to keep your garage comfortable in every season: R-10.29 & R-17.54.
These beautiful Plank doors will enhance the look of any home, from traditional to contemporary.
Estimated Budget: $4,800
Garage Door Installation
Residential Garage Doors
C.H.I. Skyline Plank Garage Door Photos