C.H.I. Skyline Flush Garage Door Installation in Santa Rosa Beach, FL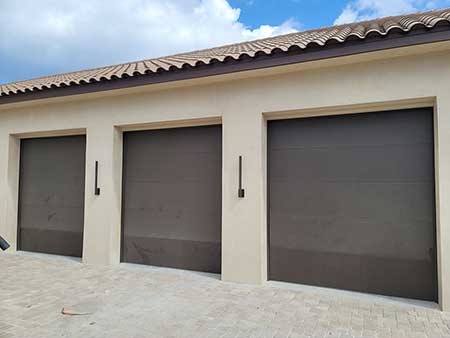 Here we have 3 brown C.H.I. Model 2128 Flush garage doors. Each door is 9x10 with Jack Shaft motors. Our customer chose to include the C.H.I. Lifetime Warranty. This warranty includes 25,000 cycle springs and a lifetime warranty to the original homeowner on all hardware and springs.
Skyline Flush doors are part of the Contemporary Collection of doors offered by C.H.I. The Skyline Flush door will elevate your home's style with crisp, clean lines and a geometric silhouette. The flush door has 9 color choices and 7 wood-tone choices. Contemporary Collection doors offer customizable window placement for endless potential in unparalleled appearance and design. You can stack all of the windows on one side, have 3 windows on the top row, 2 on the second, and 1 on the third row, along with several other window options.
This door looks beautiful on many home styles and adds a distinctive look to your home.
Estimated Budget: $8,900
Garage Door Installation
Residential Garage Doors
C.H.I. Skyline Flush Garage Door Photos