C.H.I. Garage Door Installation Atmore, AL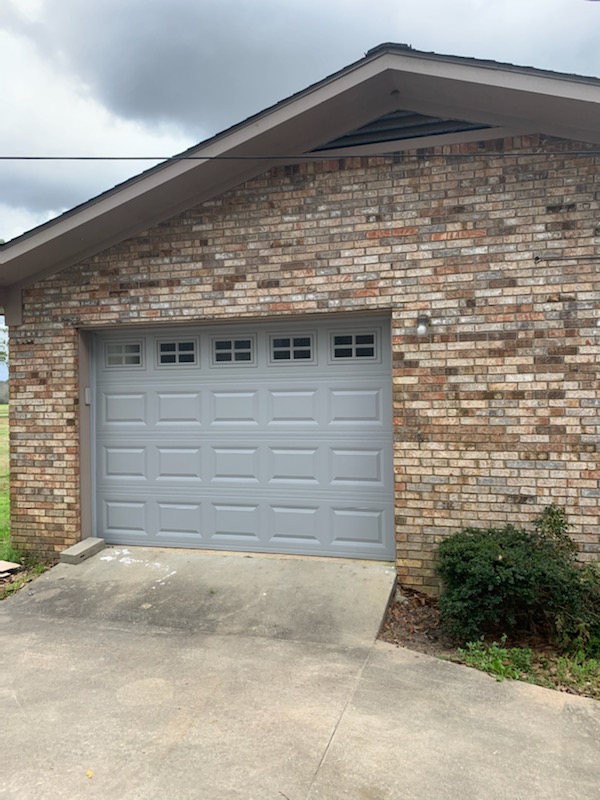 We installed 3 10x7 Model 2250 doors in Atmore Alabama. The home owner choose Grey doors to accent her home, and a row of Glue Chip windows with Stockton inserts to allow light into the garage.
C.H.I. Overhead door model 2250 is a classic Raised Panel door. This model comes in short or long panels. With or without a row of windows. Another option for Raised Panel doors include insulation, ranging from no insulation to R Values of 3.56, 7.94, 9.65, 13.40 & 17.19.
Something to consider when purchasing a new door is construction type and wind-load. Raised panel doors come in three types, Standard duty, medium and heavy duty. These doors can come without wind-load up to hurricane rated wind-load for the area you live in and even Impact Doors. The doors purchased by this homeowner are wind-rated 140mph. You can see the hurricane struts on the back of the doors in one of the pictures.
There are so many options to personalize your door. Color, glass type and inserts. There are 8 color choices, 5 glass types and 11 inserts. You may want to upgrade your look with painted or accent woodtones and designer glass.
Services Used in Project
Photo Gallery
Products Used:
C.H.I. Overhead Doors
If you're looking for C.H.I. Overhead Garage Door Installation in Atmore, AL, call American Garage Door today at 850-478-7000 or complete our online request form.